There's a lot of reasons why you stopped. You wanted your weekends back. You were tired of spending Christmas Eve behind the pass. You were wondering what it would be like to check in to that new restaurant, the one downtown, at 8 o'clock on a Friday night.
But even still, you miss all of the nostalgic parts—the reasons why you entered the hospitality industry—while doing your best to selectively forget the modest paychecks and not-so-modest hours. So when your former chef, who's no longer technically a "chef" by the strictest terms of the definition, invites you to pick up a knife once more, you answer her call.
On paper, it's a dinner to inaugurate her first harvest as a farmer. For you, it's: a chance to relive all the good parts of working in a kitchen and ignore the aspects you hated; the rare opportunity to reunite with the line cooks and front-of-house managers you clocked in at 2:00 PM (no earlier, no later) with, everyday, for over a year; a moment to celebrate all the best parts about cooking for yourself and each other.
We no longer have that fancy kitchen—but pulling out the ink sacs and spines from squid together in her house, over a sink that's small enough where there's not enough room to bend your elbows, is a strong-smelling reunion. There's no gourmet wholesale distributor accounts, but there are plenty of generous friends and winemakers and chefs and acquaintances with whom we can barter, borrow, trade and steal to get everything we need for dinner for 70.
It's 4 o'clock: The hour where every restaurant cook starts to move a little bit faster and references the prep list—in this case, a single, hand-written menu—just a few more times.
Cars pull up the dirt driveway, Negronis becomes the center of attention and once-sharp chefs knives come out of retirement and, despite their dulled performance, are as reliable as you remembered.
It's almost six o'clock: That familiar rush comes back, but instead of shouting at you to get the line set up, it's an inner murmur stuck in the back of your throat, asking when the party is going to start.
Dishes that haven't been made in years come back like muscle memory: burrata with honeycomb, toasted almonds and melon are plated at the fold-up table serving as our pass, while heavy dense tomatoes on the brink of bursting at the slightest nudge find a home on toast layered with butter.
Burrata with honeycomb, melon, prosciutto and marcona almonds



Sea bream crudo, creme fraiche,
and passionfruit vinaigrette
Tomato toast with seaweed butter
Squid, with chorizo and grilled stone fruit
Charred carrots, black sesame tahini, feta and mint.
The guests faces are scarlet and flush from something other than a sunburn and, for a brief moment, you have the rare chance to take a step back and pause and remind yourself what it was like to cook not for work, but for thundering pleasure.
We might not sit down for dinner and be a guest at our own party like we planned, but we're hardly to be pitied. We pluck shreds of sticky, spiced beef ribs in sweet onions straight from their hot braising liquid so they numb all feelings in our fingertips, before finally sitting together at the other end of the dinner party, just as dessert plates are getting passed around to everybody else.
The platters of food we saved for ourselves might have cooled off, but there's still more bottles of wine to be opened and moments to recap. We forego the forks and knives and continue to eat with our fingers and—why not—since we've been standing all afternoon anyway, ignore the chairs altogether.
The table is loud, the seats just a little too close together, and the last of eight courses, a golden honeyed semifreddo with salted fried pistachios, is delightfully cold—and a not-so-subtle reminder that sometimes, no matter how long we've been cooks, we're still terrible bakers.
Everyone has now had one more drink than they should have—the perfect amount. And it's just getting late enough that you can hear bullfrogs in the background and the confident click of pocket lighters as the cigarettes are lit. The air smells of pond water and damp soil and tobacco and, despite the precariously narrow bridge leading from the banks of the shore to the islet where we're all seated, nobody has fallen in.
But the night is young, there are more bottles to uncork and a missing wine key that forces you to get up, go from table to table and make friends. And, for a deluded moment, you think to yourself you wouldn't mind at all to work in a kitchen once more.
Pour yourself another glass—now two more than you were supposed to have—and nudge yourself into that conversation happening between the winemaker whose vineyard is a few miles north and the mother who just sent her last kid off to college. The bus tubs are overflowing with plates and knives, the tablecloths stained with debris and our makeshift kitchen is laden with dirty cutting boards.
There's a forest of empty bottles on the ground, so leave the one we just finished wherever you can find room, whether it's underneath the littered prep tables, behind the cooling fryer oil or beside the grill and its smoldering embers—wherever you can find space. . .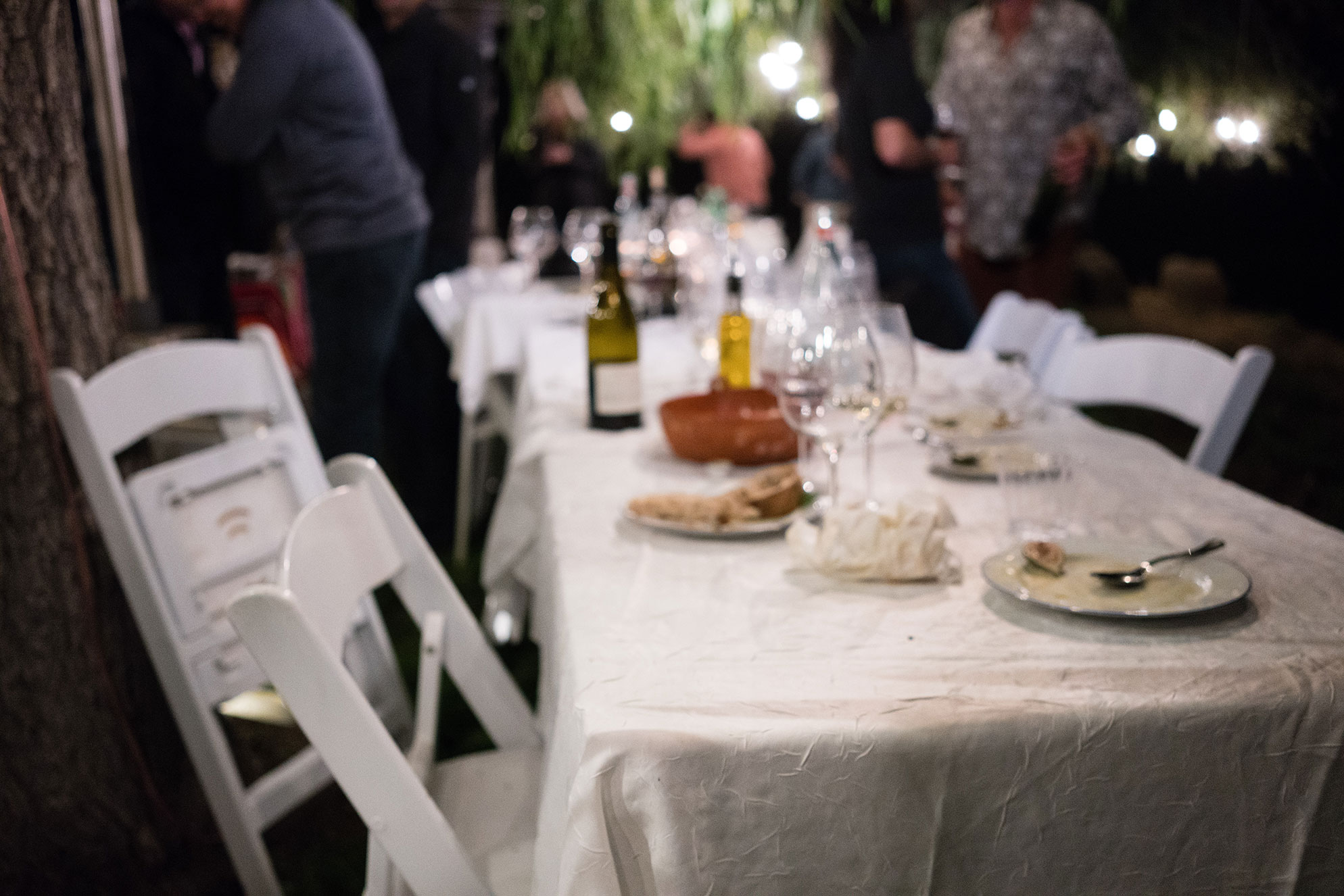 . . . we'll clean it all up tomorrow.